FHA vs. Conventional Loans: Mortgage Insurance and Refinance Options
August 2, 2021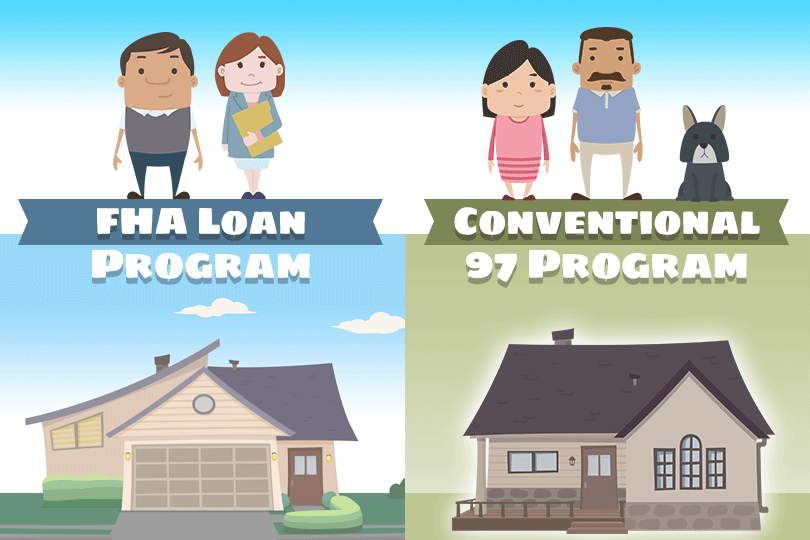 Do you know what major differences exist between FHA loans and conventional loans? After learning about some features of an FHA mortgage, many undecided borrowers wind up choosing FHA mortgages over conventional loans, thanks to lower down payment requirements, better interest rate offerings, and unique refinance loan options.
Mortgage Insurance and FHA Loans - Is It Required?
There can be some confusion about mortgage insurance and FHA mortgage loans-mostly because of the nature of the insurance needed; conventional home loans normally require the borrower to carry
Private Mortgage Insurance
(PMI) unless a specific down payment amount is made. That amount may vary among lenders, but in general if you don't put down at least 20% you will be required to carry PMI.
FHA mortgage loans do not require PMI. Instead, FHA mortgages require the payment of an Up Front Mortgage Insurance Premium and an annual
Mortgage Insurance Premium
(MIP). The MIP is calculated based on the LTV, rate, term, and base amount of the loan. The UFMIP may be financed into the loan amount rather than paid up front and out of pocket. Borrowers who choose this option must either finance the entire UFMIP or pay the entire amount in cash.
The MIP for most FHA home loans today will be paid for either 11 years, or the lifetime of the loan depending on the LTV, rate, term, etc.
MIP should not be confused with any additional required hazard insurance such as flood insurance, or other natural disaster insurance which may be required for homes located in areas with known issues with flooding, mudslides, hurricanes, etc. That type of insurance would be a separate concern from mortgage insurance, which is essentially protection against loan default.
FHA Refinance Loan Options
FHA loans and conventional mortgage loans both offer the ability to refinance, but the list of FHA refinance loan options offers one that requires a lower payment or lower interest rate to the borrower as a general requirement. Participating FHA lenders may offer you a unique Streamline Refinance loan opportunity-one with no FHA-required appraisal or credit check. The lender may or may not require a new credit check or appraisal as a condition of the loan, but has the option to require neither.
FHA Streamline Refinance
loans must provide some tangible benefit to the borrower. Such benefits may be in the form of either reduced monthly mortgage payments, reduced interest rates, or switching from an adjustable rate mortgage (ARM) to a fixed rate mortgage loan. FHA Streamline loans are for existing FHA mortgages only, but there are also FHA refinance loan options open to those who have existing non-FHA loans. It's true that conventional loans offer the ability to refinance, but compare those offerings with an FHA Streamline loan to see how the Streamline Refinance could be an advantage.
------------------------------
Learn About the Path to Homeownership
Take the guesswork out of buying and owning a home. Once you know where you want to go, we'll get you there in 9 steps.
Step 1:
How Much Can You Afford?
Step 2:
Know Your Homebuyer Rights
Step 3:
Basic Mortgage Terminology
Step 4:
Shopping for a Mortgage
Step 5:
Shopping for Your Home
Step 6:
Making an Offer to the Seller
Step 7:
Getting a Home Inspection
Step 8:
Homeowner's Insurance
Step 9:
What to Expect at Closing
Do you know what's on your credit report?
Learn what your score means.