Expected Interest Rate Trends for Mortgages in 2024
October 31, 2023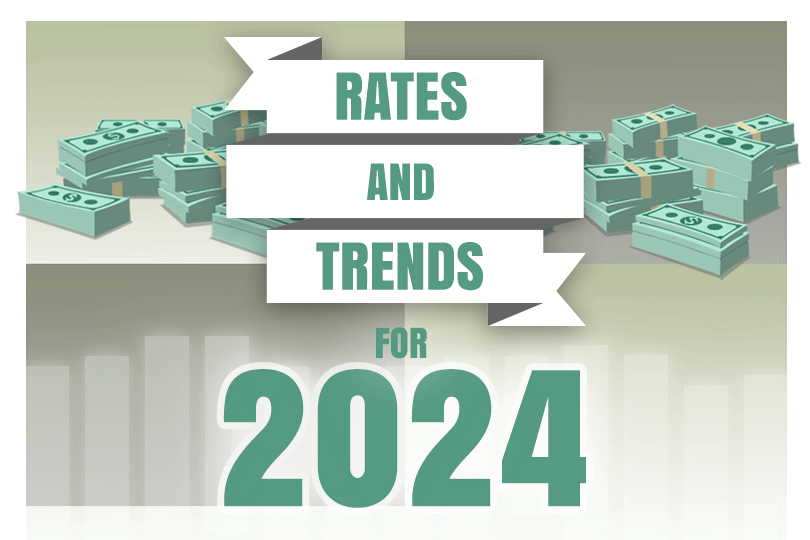 Around the fourth quarter of 2022, financial pundits and housing market watchers predicted a housing market recovery that would kick in sometime after the 2nd quarter of 2023.
Those predictions obviously did not come true, and some of the same analysis is happening now in anticipation of the real estate buying and selling season in the spring of 2024.
What's ahead for mortgages, interest rates, and the housing market in general?
State of the Mortgage Industry in Q4 2023
U.S. News and World Report notes that mortgage rates have stayed higher for a longer-than-expected period of time.
Investopedia says the national average interest rate at press time was above 8%. Naturally, that number is subject to change, but many feel rates are too close to 10% for comfort. What's a borrower to do?
Looking to 2024
According to a U.S. News and World Report article, 30-year fixed rate conventional mortgages are, "expected to stay above 6.5% through the remainder of 2023." That means we'll likely see those rates carry on into Q1 of 2024 unless there are big changes.
The article adds that these higher rates are due, at least in part, to "the Federal Reserve's hawkish monetary policy, with recent interest rate hikes essentially putting a floor under mortgage rates. In other words, rates may not rise meaningfully in the coming months, but they're not likely to fall dramatically, either."
FHA Loan Options in an Era of Higher Interest Rates
There are some strategies to consider when buying a home in the current interest rate environment. One is to consider your options for an FHA adjustable rate mortgage.
Another is to save longer and make a larger down payment. This strategy works best for those who plan to stay in the home a long time and want to save money over the loan's lifetime.
You may also reconsider how long you plan to keep the home you buy with a higher interest rate. Buying a smaller home until you grow out of it was a strategy many took for granted when mortgage rates were closer to 5%.
Reconsider your long-term plans and choose a home loan option that makes more financial sense for current conditions. You can always refinance a home loan when rates fall closer to 5%. An adjustable rate mortgage may help.
It's unsafe to assume conditions will improve quickly and those changes will happen in the short term. It may be best to assume higher rates are the norm for now and budget accordingly.
Buying a home and hoping for interest rates to drop in the next 6-12 months may not be realistic. You may need to wait a bit longer before you can refinance into a better rate, and it makes sense to assume so.
------------------------------
RELATED VIDEOS:
Reverse Mortgages Are Ideal for Senior Borrowers
The Pros and Cons of Subprime Mortgages
A Good Faith Estimate Provides Mortgage Information
Do you know what's on your credit report?
Learn what your score means.