Qualifying for a Mortgage: 5 Things to Know
December 23, 2021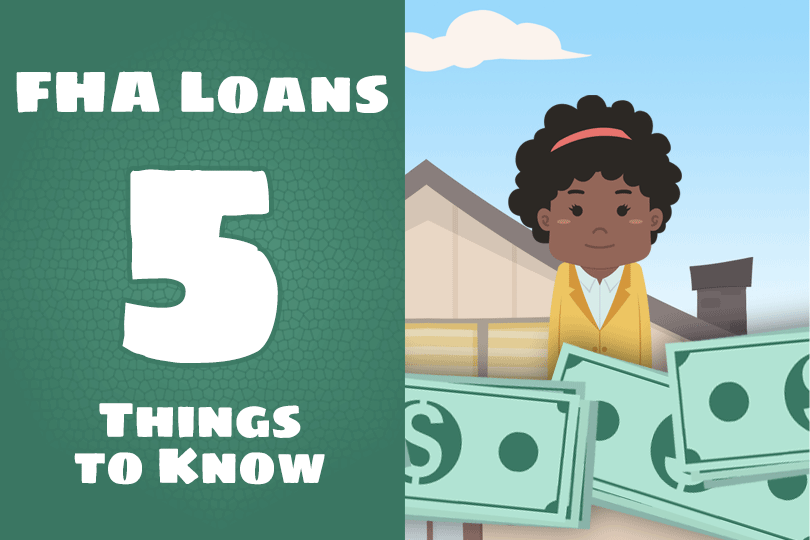 Are you about to apply for an FHA home loan and aren't sure whether you'll get approved? Here are five things to know (before you commit) that could make the difference.
1. Employment History Counts
What your loan officer wants to see with your employment history is mostly about stability. How long have you worked in your current capacity as a full-time employee earning salary, commission, or a combination of the two? If you are self-employed, how long have you been working in that capacity?
FHA home loan rules for approving a purchase or refinance loan may include the lender looking at your last two years of work history but that does NOT mean you must stay with the same employer for the entire 24 months. If your job changes show you to be upwardly mobile, that may actually help your cause.
2. Cash Saved Up In Advance May Help
Sometimes borrowers with lower FICO scores or who have other difficulty getting approved for a mortgage may be able to compensate for those issues with large cash reserves. Ask your participating FHA lender about how much cash on hand is considered by that lender to be "substantial". If you can afford to make a larger down payment based on those cash reserves you may find that is an acceptable offset depending on the lender.
3. Don't Apply If Your Credit Is Not Ready
There are many scenarios where this advice may apply, but in this particular case, we're talking about applying while you are actively disputing a credit report entry, or if you have missed housing payments in your recent credit history.
It may be a bad idea to apply for a mortgage loan until any dispute on your credit report has been resolved and you'll have the best results coming to the FHA home loan application process if you have a full 12 months of on-time payments for all financial obligations on your record.
4. Pre-Qualifying and Pre-Approval Are Not The Same
Some people use these terms interchangeably, but in general, you may find that prequalifying is the preliminary step and is NOT a guarantee that your loan will be approved.
That said, it's a good idea to prequalify as it helps you get a better idea of what your loan will look like in terms of size, your selected loan term, property taxes, etc. And even if you get approved for a mortgage you should take care with your finances all the way until closing day--don't apply for new lines of credit in the meantime, don't miss payments, etc.
5. Mortgages Cost Money--Where Do You Pay It?
By this, we mean choosing between paying upfront (and out of pocket) for closing costs and other expenses or rolling the costs into the loan amount. If you need to save more money upfront on your mortgage, tell your loan officer in the preliminary stages. Ask how much financing the allowed closing costs will affect your monthly mortgage payment.
------------------------------
RELATED VIDEOS:
The ARM is an FHA Adjustable Rate Mortgage
Understanding APR
A Few Words About Bankruptcy
Do you know what's on your credit report?
Learn what your score means.