Building A Home in Missouri with FHA and VA One-Time Close Loans
September 4, 2023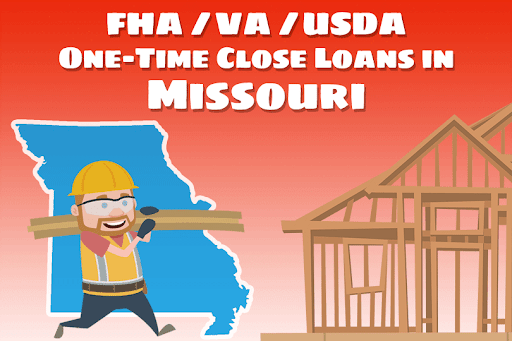 Dreaming of a brand-new home in the beautiful state of Missouri? You're not alone. The FHA / VA One-Time Close construction loan is here to make your dream a reality. With the typical home value in MO reaching $239,406 as of today's date per Zillow®, building your perfect home has never been more appealing.
Why consider
FHA / VA One-Time Close construction loans
? These government-backed options offer a fantastic way to create your ideal living space. Missouri's housing market provides a welcoming platform for constructing your dream home from the ground up, all through a single-close mortgage.
In today's competitive market, the demand for homes has surged, resulting in limited inventory. This scarcity is the exact reason to explore construction loans. Instead of tirelessly hunting for the perfect pre-built home, why not tailor your own space to your desires? Take advantage of
Missouri's FHA lending limits
, which vary by county.
Missouri is divided into 9 MSA's (Metropolitan Statistical Areas), each featuring a core with high population density and strong economic ties. These cities include Kansas City, St. Louis, Springfield, Columbia, Jefferson City, Independence, Lee's Summit, Joplin, O'Fallon, and St. Joseph.
One-Time Close Construction to Permanent Loans cover new site stick-built homes, modular constructions, and manufactured homes. This single-close option is available across all 115 counties in Missouri. Unlike the traditional process that demanded two separate loans for construction and mortgage, One-Time Close mortgages streamline everything into a single application and closing date.
What's more, during the construction phase, you won't need to worry about mortgage payments. This safeguards you from struggling to qualify for a second loan or being affected by rising interest rates.
The loan guidelines for this innovative option are much like those for a regular home purchase. Lenders typically look for a minimum middle score of 620 from the three credit bureaus. Employment and income verifications entail a two-year work history and recent pay stubs & W2's. For self-employed individuals, federal income tax returns for a two-year period will be needed.
With soaring property prices and limited available homes, building your own haven seems like the ideal solution. Embrace the opportunity to construct your dream home on your own land with the help of a One-Time Close construction loan. Your perfect Missouri home is waiting to be built.
FHA, VA, and USDA: One-Time Close Loans
Want More Information About One-Time Close Loans?
We have done extensive research on the FHA (Federal Housing Administration) and the VA (Department of Veterans Affairs) One-Time Close Construction loan programs. We have spoken directly to licensed lenders that originate these residential loan types in most states and each company has supplied us the guidelines for their products. We can connect you with mortgage loan officers who work for lenders that know the product well and have consistently provided quality service. If you are interested in being contacted by a licensed lender in your area, please send responses to the questions below. All information is treated confidentially.
FHA.com
provides information and connects consumers to qualified One-Time Close lenders to raise awareness about this loan product and to help consumers receive higher quality service. We are not paid for endorsing or recommending the lenders or loan originators and do not otherwise benefit from doing so. Consumers should shop for mortgage services and compare their options before agreeing to proceed.
Please note that investor guidelines for the FHA and VA One-Time Close Construction Program only allows for single family dwellings (1 unit) – and NOT for multi-family units (no duplexes, triplexes or fourplexes). In addition, the following homes/building styles are not allowed under these programs, including but not limited to: Kit Homes, Barndominiums, Log Cabin Homes, Shipping Container Homes, Stilt Homes, Solar (only) or Wind Powered (only) Homes, Dome Homes, Bermed Earth Sheltered Homes, Tiny Homes, Accessory Dwelling Units, or A-Framed Homes.
Contact Us: Send Us Your Request – Spam Safe
Please send your email request to
[email protected]
which authorizes FHA.com to share your personal information with one mortgage lender licensed in your area to contact you.
1. Send your first and last name, e-mail address, and contact telephone number.
2. Tell us the city and state of the proposed property.
3. Tell us your and/or the Co-borrower's credit profile: Excellent – (680+), Good - (640-679), Fair – (620-639) or Poor- (Below 620). 620 is the minimum qualifying credit score for this product.
4. Are you or your spouse (Co-borrower) eligible veterans? If either of you are eligible veterans, down payments as low as $0 may be available up to the maximum amount your debt-to-income ratio per VA will allow – there are no maximum loan amounts as per VA guidelines. Most lenders will go up to $1,500,000 and review higher loan amounts on a case-by-case basis. If not, the FHA down payment is 3.5% up to the maximum
FHA lending limit
for your county.
Do you know what's on your credit report?
Learn what your score means.